"Inbenting" another way to work
We have made comprehensive reforms of premises located in the Eixample district of Barcelona for the new offices of Inbenta. Our goal was to adapt the space to a new concept of work based on transparency, the flow of talent and creative development.
For comprehensive reforms, we start in each case of spaces that just changing depending on the needs, work philosophy and objectives of the client For inbenta, we started with a space in the form of T, a long corridor with entrance at street level that He emptied into a large open space. The challenge was to achieve a sufficiently lighted and interlinked for professionals who need to be in constant research and development place.
Integral Reforms, the different aspects
1.

Removing

all elements
In all the Prodeca Barcelona comprehensive reforms faces dismantling and emptying space, with the aim of assessing the open space in all its fullness. This, specifically, we knew we had to get the maximum transparency, unobstructed space where work nicely.
2. Decorative Elements
Given that Inbenta is a company with a philosophy based on creative development, we should be very careful in the choice of decorative elements that would sometimes proposal and other client our own initiative. The theme was "galactic space" carried trend mythological film Star Wars. So everything in the office should have remembered to this idea. So all elements fabircamos, vinyl, furniture, lockers, bike hangers, separators …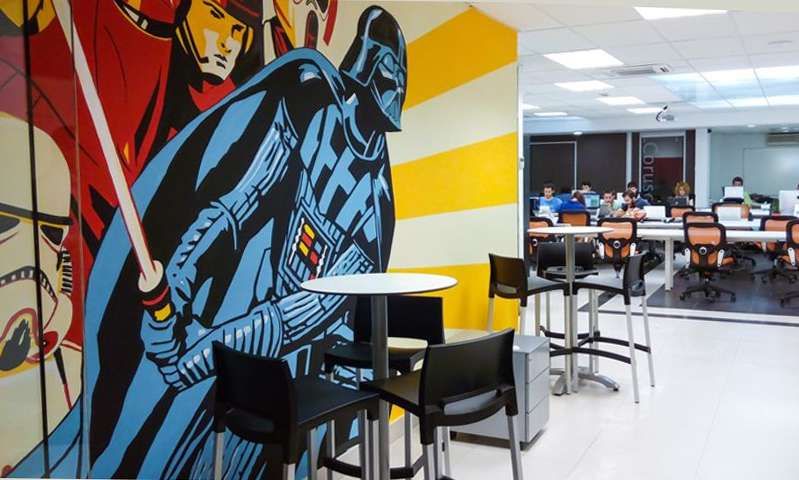 3. Technology facilities
We handle also, within the integral reform of everything related to energy, technological installations and lighting. Inbenta, being dedicated to technology, this issue became one of the key throughout the project. Facilities that should be as practical, infallible and aesthetically acceptable.
4. Graffiti murals
Following trends of vinyl offices and with decorative murals, develop an entire universe in office space with direct wall painting by graphic artists. The result is fun, informal, who was being sought and especially inspiring for the team inbenta.
5. Chill out area

Inbenta space, should also have a chill out zone that adapt as a sort of office with tables, stools and poufs colors. An area for rest and also why not to exchange ideas.
The result was satisfactory both for the customer, who got a height space for ourselves we could unleash the project of a new way of working.