Design Thinking for designing spaces
Design Thinking for designing the spaces of 21st century companies.

We are at a time of change in the different economic and social scenarios that have been built, a change that requires another way of focusing on problems in companies like Design Thinking for designing spaces; a new method that combines technology and humanity to meet new needs.
How has our business and economic system changed? Above all we highlight the need for more new building space in cities to create businesses, which in recent years has pushed on the necessary requalification of pre-existing spaces to give them a new use.
This lack of space comes with a circumstance that is marking the way in which the new businesses are configured and is even reinventing existing businesses. At the same time, a change of paradigm is occurring inside companies, now the employees act as a corporate brand community with its own opinion that can criticise or praise the company over the social media.
It is understood that work must be a life experience in which jobs are shared with the team by means of a work process, but at the same time people socialise, eat, rest, play … live.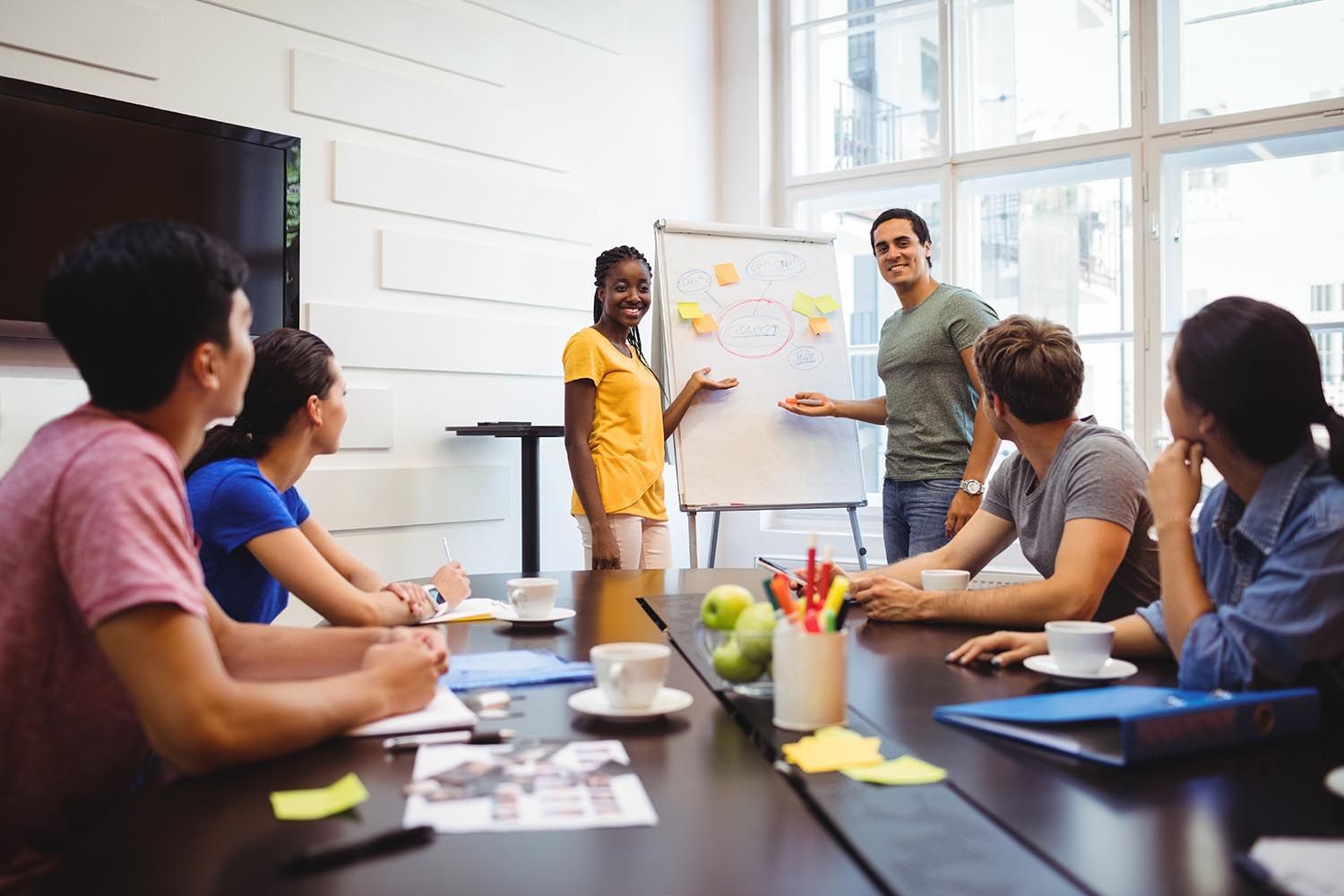 Entrepreneurs, managers or management teams must offer the work team the best possible conditions in which to develop their happiness, as on this will depend the fulfilment of the business goals. The designer of spaces allies with strategic branding to create relevant meanings inside and outside the organisation.
In Prodeca Barcelona, we furnish strategy and creativity for brands that have the challenge of resolving complex problems and providing value for their workers and customers.
Speed in optimising space
We are immersed in a true culture of speed, which means that simplicity and minimalism triumph with their functional solutions that take the lead.
Much more flexible spaces are demanded, capable of adapting to changes in the work process, in the kind of business and sector; spaces in which it is possible to recreate different atmospheres depending on the type of work to be done or the kind of industry to develop.
We live in an economy based on immediacy that seeks sustainability in which space designers have to offer facilities for reinvention.
Design Thinking as a work method
Design Thinking is a new current of creative methodology that aims to use the same weapons as the designer when facing problems. The idea is to confront the daily difficulties of a company just as designers do. But how do the designers do it? How do they confront the problems?
One of the keys lies in observation and immersion, which is a crucial initial phase for the designer in which he feels the needs of people as if they were his own. It is from this experience where the true conclusions are drawn that define the needs in companies, which in the end are the needs of both the internal users (workteam) and external users in the shape of consumers and customers.
Design Thinking is based on experimentation from the consideration of different ideas or solutions developed empirically to test their feasibility, and for which a prototype is made of the order to suggest improvements.
This same form of work that we apply in Prodeca Barcelona is also developed by many of our customers in which we have created spaces ad hoc. The work teams not only need to share ideas virtually, but also physically and visually. This is where the importance lies of a workspace in accordance with this new way of working.
It is the methodology we use in Prodeca Barcelona and which tries to think how a designer deals with the problems. The basic steps of Design Thinking are:1.
EMPATHY. An exercise in which we put ourselves in the shoes of those who are going to live in the space, and we feel their particular needs.
PROBLEM DEFINITION. The main and secondary problems are clearly defined
CONCEPTION. Ideas and possible solutions are proposed.
PROTOTYPING. Some proposals are chosen and are realised by means of prototypes.
EVALUATION. The prototype is explained, commented and the pros and cons are assessed.
The method pursues a human and technological approach to problems; the aim is to offer feasible solutions that solve people's problems in spaces.
The ideal creative and empathic workspace
Experience working with Design Thinking has brought us valuable conclusions regarding workspace design.
Although each company has its own particular features, the main thing in our office or business space is always a good distribution adapted to the work process, or what we call workflow.
From here, everything that can be added both in micro-spaces and in sustainable materials will always benefit the development of the company. In Prodeca Barcelona, we consider specific needs common to all 21st-century organisations:
1. Optimised distribution adapted to the work process.
2. Eco-efficient office saving in energy and resources
3. With ergonomic work posts.
4. Provided with meeting rooms, project rooms and brainstorming.
5. With areas for resting and socialising.
6. Space with the brand's DNA in every corner.